From December 21st, Boomerang will run a weekend of Christmas specials, film and episodes from 9am to 9pm, and another 12-hour marathon on Christmas Day. A few specials will run on Monday and Christmas Eve at 4:30pm. The specials included are as follows: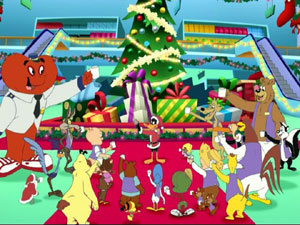 Bah Humduck: A Looney Tunes Christmas
In this adaptation of Charles Dickens' A Christmas Carol, Daffy Duck is the greedy proprietor of the Lucky Duck Mega-Mart and all he can think about is the money to be made during the holiday season. Disgruntled employees like Assistant Manager Porky Pig, Marvin Martian, Speedy Gonzales, and Elmer Fudd plead to Daffy Duck for small concessions like a day off on Christmas and discounted toys, but Daffy is relentless in his pursuit of the almighty dollar. It's up to last minute shopper Bugs Bunny; the ghosts of Christmases past (Tweety and Granny), present (Yosemite Sam) and future (Taz); and Porky Pig's young daughter Priscilla to make Daffy see the error of his ways and discover the true meaning of Christmas.
Saturday 22nd - 8:00 and 15:30
Sunday 23rd -
13:00
and
19:00
Tuesday 25th (Christmas Day) -
10:00
Tom & Terry: A Nutcracker Tale
Jerry and Tuffy are watching a performance of the Nutcracker, one Christmas Eve. Their wish to perform their own version comes true, with Jerry playing the lead role, Tuffy as his sidekick and a female ballet dancer played by a doll.. Tom and a gang of Alley Cats walk in on the stage, becoming the villains of the show, who kidnap the girl and keep her trapped in a cage, guarded by the Cat King. Jerry, Tuffy, and a couple of toys they meet on the way, have to make their way through each part of the show's scenery to find the toymaker, and defeat the cats to save the girl.
Tiny Toon Adventures: Its a Wonderful Tin
y Toons Christmas
Buster Bunny is trying to produce and direct the Tiny Toons Holiday Special, but it is not working. Montana max, makes him look bad, and then bribes the network executives into firing Buster and making him the producer. Buster thinks he has had it, and plans to throw himself out of cartoons forever. His guardian angel appears and shows him what Tiny Toons would be like without him.
The Pink Panther: A Very Pink Christmas
Pink Panther and Big Nose establish rival Christmas tree businesses in their attempts to earn the purchase price for a mutually coveted luxury car. In the process, they inadvertently discover the true Christmas spirit of giving.
Sylvester and Tweety Mysteries: It Happened One Night Before Christmas
Dr Seuss' How the Grinc
h Stole Christmas (1966)
Bitter and hateful, the Grinch is irritated at the thought of the nearby village having a happy time celebrating Christmas. So disguised as Santa Claus, with his dog made to look like a reindeer, he raids the village to steal all the Christmas things. The village is sure to have a sad Christmas this year.
The New Scooby Doo Mysteries: The Nutcracker Scoob
Scooby, Shaggy, Scrappy, Daphne and Fred are helping out with a theatre production of the Nutcracker. But the show gets interrupted with 2 problems: a grouchy businessman who's bought the deed to the theatre and plans to tear it down, and a ghoul who's after the Nutcracker prop.
The 13 Ghosts of Scooby Doo: Its a Wonderful Scoob
An homage to the classic tale,
It's a Wonderful Life
. After accidentally seeing a glimpse of his horrifying past using Time-Slime's sceptre, Scooby calls it quits and leaves the gang to live back with his parents. With their title character gone, Flim-Flam holds auditions for a replacement Scooby and hires a new actor: a lazy dog named "Burney Gumshire", who comes in no use when Time-Slime captures the gang and plans to release all the ghouls that are trapped in the Chest of Demons. It's up to Vincent Van Ghoul to persuade Scooby-Doo to come back and save the gang by showing him what would happen in the future.
What's New Scooby Doo: A Scooby Doo Christmas
The gang gets stranded in a town where a headless snowman is on the loose and Christmas isn't celebrated.
Merry Christmas, Mr Bean
The Hapless Bumbler invites Irma over for a Christmas Dinner, but gets into his usual mischief with various festivities. From having trouble with the Christmas Turkey, and overfilling a Christmas cracker with bangers, to his own re-creation of the nativity scene.
The Garfield Show: Home for the Holidays
Garfield is looking forward to the holidays and all of its joys, but Arlene gives him a reason to stop and remember the true meaning of the season, so Garfield decides to help some homeless cats and dogs by helping to find homes for them.
Caroling Capers
While waiting for Jon to finish with the feast, Garfield watches a programme in which carol singers are given treats in return for their festive songs. This sparks Garfield an opportunity for him to get free food, so he goes round the neighbourhood with Odie and Nermal singing carols. Unfortunately, his plans backfire.
Tom & Jerry
(episode showings may vary):
The Night Before Christmas
Jerry explores the house during Christmas Eve night, discovering delectable Candy Canes and squeaky toys, until he wakes up Tom by accident. They chase around the house until Jerry jumps out of the mailbox slot, and Tom jams it so Jerry can't get out. But Tom starts to get a guilty conscience as Jerry braves the freezing cold.
Mice Follies
Jerry and Tuffy/Nibbles flood the kitchen with water, and adjust the freezer to make everything freeze, to form their own ice rink. As they enjoy their fun of ice-dancing, Tom finds out and tries to stop them, unaware of the slippery conditions of the frozen floor. Luckily, he finds a pair of Ice-Skates, and gets his own back at the mice.
Snowbody Loves Me
A freezing Jerry Mouse seeks shelter at a house, filled with a feast of cheeses. But when he invites himself him, he locks Tom out, and the cat tries to get back in and go after Jerry.
The Tom-inable Snowman
After making another escape from being eaten, Jerry finds protection from a Swiss helper dog. Tom makes a distraction for the dog to go after, so he can go after Jerry. The chase later ends him being injured and treated by the Dog, who supplies him a barrel of alcohol, which Tom consumes and become drunk.
T
om & Jerry Tales: Ho Ho Horrors/Doggone Hill Hog/ Northern Light Fish Fight
When Mrs. Two-Shoes goes to bed on Christmas Eve, Tom lies in his basket and dreams of chasing after Jerry and eating him. Jerry, not liking this, enters the dream and turns it into a nightmare.
Tom and Jerry are chasing one another in the snow.
Spike is sledding down a nearby hill, and cr
ashes into them. He does this repeatedly, thinking it funny. He bullies the two relentlessly as he guffaws at their pain. Tom and Jerry soon get Spike back, but all three wind up with broken arms and legs.
In the Arctic wastes, Tom is a fisherman with nothing to show for it but a bunch of holes in the ice and a very cold worm. When Jerry has beginner's luck and catches a fat fish, Tom tries to steal it.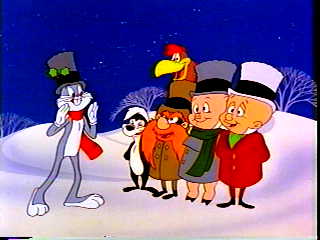 Looney Tunes
(episode showings may vary)
Bugs Bunny's Christmas Carol
In a short Adaptation to Charles Dickens, a cold Bob Cratchit (played by Porky Pig) is working non-stop for careless, grouchy Scrooge (Yosemite Sam). Bugs tries to help Bob by "borrowing" a lump of coal from Scrooge's office and giving it to Bob to keep him warm. But when Scrooge's cat, Sylvester discovers Bob warming up, he warns his master and Bob gets fired. After giving Bugs some welcomed hospitality by Porky, he's introduced by the family, including Tiny Tim (played by Tweety Pie), Bob suddenly gets a foreclosure notice from Scrooge, and Bugs decides to take drastic action: by making Scrooge get into the holiday and persuade him from throwing Bob Cracthit into the streets.
Gift Wrapped
Sylvester wakes up one Christmas morning to see what Santa left him and Granny. Unhappy with his gift, a rubber mouse, he finds that Santa left for Granny a canary (Tweety), and attempts to eat, only to be stopped by Granny and a bulldog.
Fright Before Christmas
The Tazmanian Devil lands into the north pole, and goes wild until he bumps into Santa's workshop. After getting tangled, and ending up in Santa's outfit, Taz finds himself on a sleigh ride to Bugs Bunny's house. Bugs, discovering its an imposter, tries to tame Taz and and eventually returns Santa's sleigh back to the North Pole.
Once again, Tiny Toons is getting a christmas-only airing, being their festive special. The Grinch is probably is only other miscellaneous christmas feature on Boomerang, as the rest are all based on their programming. No consideration for their 4am classics slot, so The Flintstones or Top Cat remain in their normal episode run.